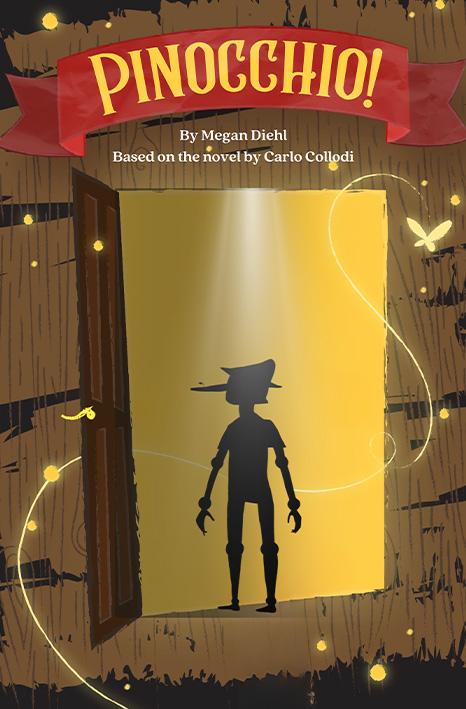 Pinocchio!
When
Runs from Thursday March 14 2024 to Saturday April 13 2024
Approximate running time: 1 hour
Venue
Production Notes
×
Pinocchio!
By Megan Diehl
Based on the novel by Carlo Collodi
Directed by Giovanni Marini
Presented by the Act 3 senior Class of 2024
Tuesdays, Thursdays & Saturdays
March 14 to April 13, 2024
Geppetto, a lonely toymaker, carves a wooden puppet and makes a wish that one day he may have a real family. That night, the Blue Fairy grants his wish, and brings the puppet, Pinocchio, to life. She provides Pinocchio with a Cricket for guidance and reminds him that he must prove himself worthy so that he can one day become a real son to Geppetto. Pinocchio is sent off to school, and despite his desire to please his newly found father, gets distracted and swindled along the way. A sly fox, a cunning conman, and many other acquaintances present challenges as he tries to remain kind and true in his pursuits. Come and see how Pinocchio navigates these adventures and more as he discovers the power of honesty and the deep love of a family.
Special Carpet Seating
Children can get a front row seat for the fun with on-stage carpet seating. Seating is first come, first serve. Please note this seat will be your child's seat for the entire performance. If you feel your child will be unable to stay on the carpet for the full 60 minutes, we encourage you to have your child sit next to you in a theatre seat.
Please be advised that groups (ten tickets or more) are not available for purchase online. To purchase group tickets, please call the Act 3 Box Office Manager at (610) 282-1100 x1419