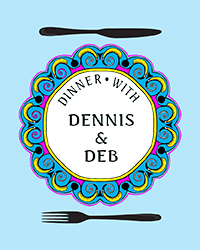 Dinner with Dennis & Deb: Godspell
When
Occurs on Sunday October 22 2017
Approximate running time: 2 hours
Venue
Performance Notes
×

Dinner with Dennis and Deb
Join Dennis Razze, chair of the theatre
department, and special guests, as he hosts an
informative look at our production of the
legendary musical Godspell, directed
by alumnus Andrew Kane '07, and designed by
our talented theatre majors.
Held in the University Center, dinners are $32 and include a full open bar.

Hors d' Oeuvres
Cheese & Grapes, cucumbers with smoked
salmon, roasted vegetable platter, and
fresh hummus with grilled crostini.
Baskets of flatbreads with seasoned olive oil.

Salad
Mixed greens with pomegranates, apples,
nuts and pomegranate vinaigrette.

Entrées
Sesame crusted lamb, St. Peter's Fish, and
orange glazed duck breast.

Side Options
Grains and roasted corn.

Dessert
Fig thumprint cookies, and fresh apricot
cobbler with vanilla ice cream.



We are able to accommodate any variety of dietary restrictions.
Please call Director of Development Deb Walter at (610) 282-1100 x 1224 after booking if you have special dietary needs.